Last Update: Tuesday 7th November
We're Moving!
After 40 years at our current base in Wentworth it's now time to move on. Nearly 2 years in the planning, we're packing up Wingham Wool and will be re-locating to a new site in the New Year, taking our Mill, processing sheds, packing department and literally tonnes of wool with us!
---
What does this mean for ordering?
Wingham Wool will be operating as normal up to our moving date
This means you can place orders, call the office, Click & Collect.... Basically nothing is going to change.

We will shut down completely on the 1st February 2024
This is when we'll be carrying out the move and we aim to have this done in 2-3 weeks. During this time you wont be able to place any orders.
We will re-open Mid-February 2024
The exact date will be released nearer the time when we have a better understand of the time-frame.
Our custom blending service will be suspended from the 5th December 2023
This is so we can carry out maintenance work on our machinery and prepare it for the move. It's possible we may be able to offer a limited service in the New Year, however this is not guaranteed. Full service will resume when we re-open in our new location.
---
Where Are You Going?
Gloucestershire!
While Yorkshire has been a fantastic home to us for the past 40 years, Tom and Ellie both have strong connections to the South West and it was the perfect place to start looking. We're very pleased to say that we have secured fantastic premises that are very well suited to Wingham Wool, allowing us to maximise efficiency between our mill and retail operations.
We wont be releasing the exact address until we're a little closer to the moving date as we want to ensure that we have everything in place.
---
How It All Began
Tom Gough - Director
I was born 39 years ago in our family home in the village of Wentworth, South Yorkshire. It's fair to say that I was born into the wool trade, as just a few yards away was the shop and sheds that were home to the business my mum Ruth had recently setup: Wingham Wool.
Back then it was easy for knitters to find yarns, but good quality wool in its "raw" state for hand-spinners was difficult to come by, and it's this gap in the market that Ruth saw. She approached the factories and mills in the West Yorkshire heartlands of the British textile industry, sourcing wools that were otherwise destined for more industrial processes such as woven into cloth and carpets, realising that these same wools would be perfect for her customers. A male dominated industry at the time, Ruth was no doubt something of a curiosity as she dealt with the stoney-faced "wool men" of the industry in the 1980s and 90s, but she rapidly became a familiar figure and her knowledge and expertise quickly won them over.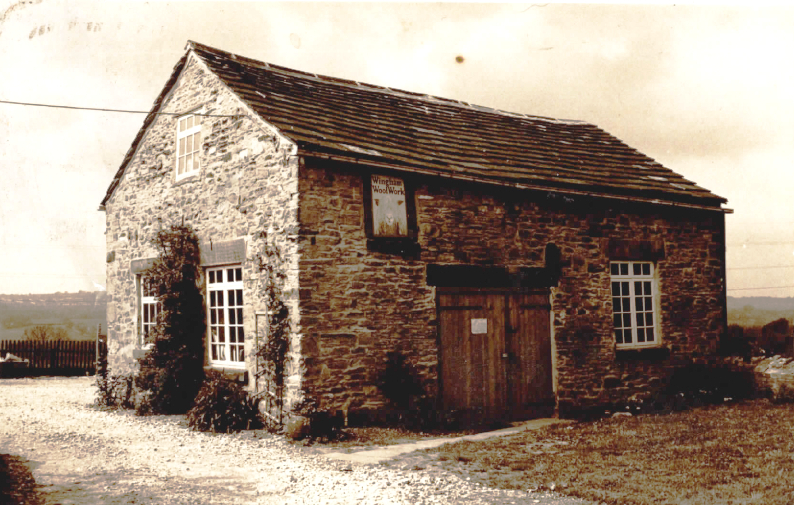 Wingham Wool quickly grew as news spread that there was a little shop in South Yorkshire that was an Aladdin's Cave of wools and fibres. A mail order service was setup and we were suddenly supplying customers from around the world, from crafters at home through to international designers who were keen to embrace the traditional crafts.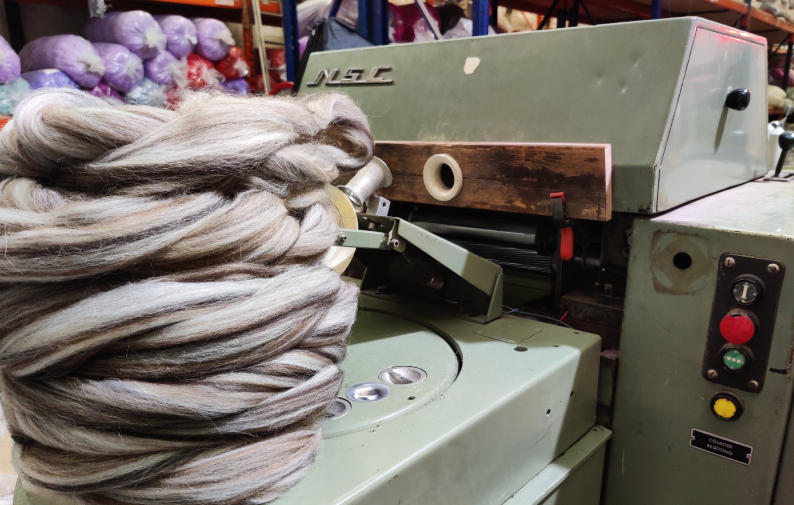 By now we were commissioning our own ranges of wools, most notably our Dyed Merino, and we were back at the Yorkshire dyeing mills. Building on the friendships forged in our early days we were able to work closely with them to ensure our wools became famous for their excellent quality. We also expanded our own range of on-site processing, allowing us to create our unique ranging of blended wools.
At this point Wingham truly was a family business, with Ruths husband Alan working full-time establishing the Wingham Mill and developing our Custom Blending Service. I also came on-board and started to develop the online side of things before moving on to managing the back-end of the business. Ruth was able to share her hand-spinning skills with students from around the world who came to her for classes.
The most recent change for everyone was Covid. We were fortunate in that as a family business we were able to shield and work together, with everyone in the family pulling together to ensure that Wingham kept going. Having developed the website over the years we were able to close the shop and focus entirely on the online sales, shipping fibres to customers all around the world.
A lot changed for everyone in those few years, and Ruth and Alan decided that they would like to step back from the business and start to enjoy their retirement. I took on more of the business, together with my loving partner Ellie who quit her job and came onboard fulltime.
The Wingham Wool of today is very different to the business that started 40 years, most notably in the amount of space we need to operate. Over the years we've added buildings and sheds, and even an off-site storage facility, but we always knew that we were going to have to move on to something a little more suited to how we operate today.
We'd like to say a massive thankyou to all our customers, some of whom have been buying from us from those very early days! Wingham will be moving, but we'll still be the same family business. Our goal will always be to supply the best quality fibres at the best prices and we hope to continue for many years to come.